Kevin Sorbo about The Movie Alongside Night and Giving Kids a Better Education
Kevin Sorbo, known for shows and movies like as Hercules, Andromeda, Meet the Spartans and Soul Surfer. Recently he starred in the movie Alongside Night. He plays an award winning world economist that along with his son take to the job of saving the country with a government that has run amok.
In this video interview On Purpose Magazine talks to Kevin about this role and his work with World Fit for Kids.

I am love sci-fi and have always been a Kevin Sorbo fan so when I was offered the chance to interview him at the premier of one of his new movies, I jumped at it.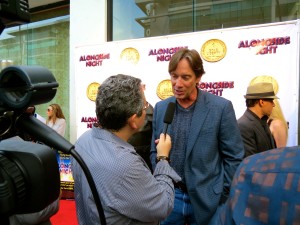 Kevin was very personable and took the time to talk with all the press and even his fans out on the street.
You will see in this interview that he believes in the tenants of this movie and about helping kids. Thanks Kevin.  – JW
Kevin Sorbo
Hailing from Norwegian ancestry, Kevin was born in Mound, Minnesota, USA.
His mother worked as a nurse and his father taught junior high school resulting in a down to earth upbringing that forged the outstanding work ethic Kevin holds to this day.
By the time he was in University, Kevin was covering tuition costs with modeling work which swiftly translated into a career in television with his first appearances on Prime Time shows such as Murder She Wrote and The Commish.
In 1993, Kevin emerged as a full fledged international TV star when he was cast as the lead role of Hercules in a series of TV films that would lay the groundwork for the immensely popular series, Hercules: The Legendary Journeys. Kevin also guest-starred as Hercules in episodes of the successful spin-off series Xena: Warrior Princess as well as providing his voice to the animated Hercules films.
Just as the Hercules series came to an end, Kevin received a call from the wife of Star Trek creator Gene Roddenberry, personally requesting him to play the lead role in Roddenberry's second sci-fi series, Andromeda. The show ran for five seasons and further fueled Kevin's already ferociously loyal global following!
In 1997 Kevin accepted his first leading film role in the fantasy action feature Kull the Conquerer.
Along the way, Kevin played characters in video games such as Mortal Kombat 4, God of War and The Conduit.
Kevin guest starred on the sitcom Two and a Half Men and played a recurring role on the final season of The O.C. One glimpse at Kevin's imdb and it's clear that this hard working actor takes no breaks! In addition to his work onscreen, Kevin now also produces films, recently serving as Executive Producer and star of the movie Abel's Field.
Kevin recently authored the widely praised book, True Strength, that recounts the painful recovery from serious health setbacks that changed his life during his Hercules years.
Sorbo married actress Sam Jenkins, whom he met during her guest appearance on Hercules in 1998. They have three children together, Braeden, Shane and Octavia.
Besides his successful career in entertainment, Kevin has always devoted a hearty portion of his time to causes he believes in.
In 2005 he was named successor to Arnold Schwarzenegger as the national spokesperson for The Afterschool Alliance, a nonprofit working to ensure that all children have access to quality after school programs, and since '97 Kevin has donated his time as the spokesperson for the non profit organization, A World Fit For Kids. Please visit WorldFitForKids.org to learn more.
Kevin's Book
True Strength
From Amazon
On television, Kevin Sorbo portrayed an invincible demigod; in his real life, a sudden health crisis left him partially blind and incapacitated at just thirty-eight years old.
Yet since appearances are everything in Hollywood, he hid the full details about his condition from the press and continued to film Hercules, which was the number one TV series in the world.
In this inspiring memoir, Sorbo shares the story of the crisis that ultimately redefined his measure of success.
True Strength is the story of transformation, persistence, and hope in the face of seemingly insurmountable obstacles.
Sorbo reflects on his childhood in Minnesota and his early acting days in Hollywood, to his charmed life as television's beloved Hercules, and where he is today. He recounts the onset of his symptoms, his frightening hospitalization, and his arduous path to recovery.
With this honest account of personal tragedy and triumph, Sorbo aims to blaze a trail for those who have ever suffered acute illness or a serious setback in life and are now struggling to find their way back.
A World Fit for Kids
Imagine a world where…..
Childhood obesity is not an epidemic
All kids, even the most disadvantaged, receive the guidance they need to be physically, mentally and emotionally fit.
Children have positive role models and can themselves become leaders and role models for younger generations.
All students complete high school ready for higher education, the workforce, and a healthy, prosperous future.
A World Fit For Kids! is creating that world. We work every day to give young people the training, tools and support they need to achieve their goals and lead fit and fulfilling lives.
A World Fit For Kids! (WFIT) is a leading provider of healthy behaviors and personal empowerment programming and training that result in a triple bottom line for young people:
Obesity reduction
Increased graduation rates
Work readiness / jobs
Since 1993, WFIT has positively impacted the lives of over 200,000 youth through its healthy behaviors and youth development programs in communities with some of the highest obesity rates and lowest high school graduation rates in Los Angeles. We work to ensure that young people develop the physical, mental and emotional fitness they need to succeed.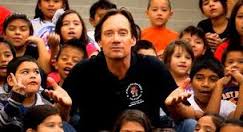 WFIT's distinctive mentoring model helps young people push beyond self-imposed limitations, refine existing skills and develop new ones.
High school participants work with positive adult role models, discover their own strengths in leadership, and in turn, become active advocates, empowered leaders and healthy behaviors ambassadors who positively influence their peers, families, schools and communities.
Our students are learning about healthy behaviors and quality physical activities, and our teens are equipped to graduate from high school ready for higher education, the workforce, and a healthy, prosperous future.
Why is Physical Activity and Healthy Behaviors the foundation of all WFIT programming?
Physical activity and healthy behaviors offer the experience of making positive choices and getting positive results. Young people, especially those living in high-crime and high-poverty neighborhoods, often experience life as out of their control.
Through our programs they discover there are things they can control, starting with their bodies. They take charge of their health, which leads them to take charge of their education, ultimately leading them to take control over other critical areas of their lives.
The Mentors In Motion Model
A key example of WFIT's successful model is the Teen Mentors in Motion℠ (MiM) Program, which provides healthy behaviors and youth development training, job shadowing, and internship opportunities to teens.
The program helps to increase self-awareness, build confidence, and strengthen interpersonal skills, equipping teens with important knowledge and tools that build their capacity to succeed in school, work and life.
WFIT teens receive mentoring, academic assistance, and enrichment activities to support them in discovering their own capacity for success.
To prepare them for a skilled workforce, participants engage in work-readiness training, job-shadowing, and have the opportunity to apply for a 6-month internship as an Assistant Coach-Mentor at one of WFIT's school sites or with another youth-serving organization in a profession of their choice.
Evaluation results have shown that the MiM Program works. In fact, 94% of students who completed the Mentors in Motion℠ training and 6-month internship program since 2003 have graduated from high school, primarily from a high school with a 49.5% graduation rate!
Sharing Our Success
While WFIT's afterschool programming is only available in the Greater Los Angeles area, we maximize our impact, reach and sustainability by sharing WFIT's success strategies and expertise according to a replicable model that can reach young people all over the world by partnering with a network of service providers.
The process starts with WFIT's Master Trainers who guide other youth-serving professionals and organizations on how to teach and incorporate WFIT's healthy behaviors and personal empowerment program model.
Through a hands-on approach, participants gain skills to integrate sound nutrition, physical activity and youth development practices and principles into their own lives and their youth programming.
Participants can use the tools, knowledge and techniques they learn from WFIT to impact even more young people in the future. Through our training division, WFIT is creating a sustainable, accessible way for others to achieve WFIT's same breakthrough results.
Alongside Night (Movie)
It's the near future and America is in trouble. Hyperinflation and disorder reign in the towns and cities of the nation.
But this isn't Atlas Shrugged.
It's the nonstop action and suspense in award-winning indie filmmaker J. Neil Schulman's latest production, Alongside Night, based on his award-winning 1979 novel endorsed by Nobel-laureate Milton Friedman, Anthony Burgess, Glenn Beck, and Ron Paul.

Starring Kevin Sorbo (Hercules: The Legendary Journeys), Said Faraj (Green Zone), Contact and Starship Troopers' Jake Busey, Star Trek Voyager's Tim Russ and Garrett Wang, Alien Nation's Gary Graham, Men in Black 3's Valence Thomas, Parks and Recreation's Mara Marini, Lady Magdalene's Ethan Keogh, Adam Meir and Susan Smythe, Kevin Sorbo's real-life wife, actress Sam Sorbo, singer/songwriter Jordan Page, and real-life activist Adam Kokesh, as well as up-and-coming actors Christian Kramme, Reid Cox, Kyle Leatherberry, Rebekah Kennedy, Charlie Morgan Patton, and Eric Colton, this is a film far more real than The Hunger Games.
This is the story of Elliot Vreeland (Kramme), son of Nobel Prize-winning economist Dr. Martin Vreeland (Sorbo). When his family goes missing and while being shadowed by federal agents (Faraj and Leatherberry), Elliot, with the help of his mysterious companion Lorimer (Cox), explore the underground world of the Revolutionary Agorist Cadre to find them. It's a story of romance, intrigue, action, adventure, and exhilarating science fiction thrills.
Synopsis by Alongside Night Unit Publicist and Associate Producer, Kevin Latchford