Nichelle Nichols, best known for Lt. Uhura on Star Trek Came out to support The Movie Alongside Night
Nichelle Nichols, Actress, Singer, Producer, best known for her part as Lt. Uhura on the original Star Trek and the first movies, came out to The movie Alongside Night starring Kevin Sorbo as she was in J. Neil Shulman's award winning movie Lady Magdalene's.
Nichelle also wanted to support the Alongside Night sci-fi stars in this film, including Tim Russ (Star Trek: Voyager), Garrett Wang (Star Trek: Voyager), Jake Busey (Starship Troopers) and Actor/Author/Director J Neil Schulman wrote an episode for The Twilight Zone TV Series.

Went to the premeire of Alongside Night to interview Kevin Sorbo and watch the movie, was I surprised to see Nichelle Nichols stop by.
You first must know that I am a huge sci fi fan and Trekor. I am not the type to dress up and go to Comicon, but I could get all nerdy on ya right now….
I will save you from that and just say that in this interview. Nichelle came with Darius Santos who who she met in the film Omaha Street. Nichelle, in the interview states that Darius was in the movie, but she may have been confused as he was not.

Nichelle was the guest of J. Neil Schulman who wrote and directed Alongside Night. Nichelle starred in J. Neil Schulman's previous award winning movie Lady Magdelene's.
Nichelle never gave me the name of the organization she supports, but I did some checking and she supports many great causes including Boys and Girls Clubs of America.
This was very special for me as an interviewer and Trekor as I got a warm hug from Nichelle, so thank you Nichelle (Lt Uhura)  – JW
Nichelle Nichols
Nichelle Nichols (née Grace Dell Nichols on December 28, 1932) is an American actress, singer and voice artist. She sang with Duke Ellington and Lionel Hampton before turning to acting.
Nichols' most famous role is that of communications officer Lieutenant Uhura aboard the USS Enterprise in the popular Star Trek television series (1966-1969), as well as the succeeding motion pictures, where her character was eventually promoted in Starfleet to the rank of commander.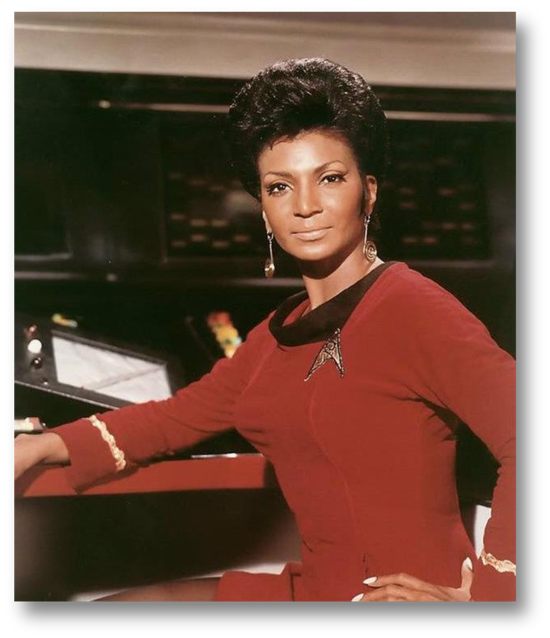 Her Star Trek character, one of the first African American female characters on American TV not portrayed as a servant, was groundbreaking in U.S society at the time.
Civil rights leader Martin Luther King, Jr. personally praised her work on the show and asked her to remain when she was considering leaving the series.
In her role as Lieutenant Uhura, Nichols famously kissed white actor William Shatner as Captain James T. Kirk in the November 22, 1968, Star Trek episode "Plato's Stepchildren". The episode is popularly cited as the first example of an inter-racial kiss on United States television.[13][14][15] The Shatner-Nichols kiss was seen as groundbreaking, even though the kiss was portrayed as having been forced by alien telekinesis.
There was some praise and some protest. In her 1994 autobiography, Beyond Uhura, Star Trek and Other Memories, on page 197 Nichols cites a letter from one white Southerner who wrote: "I am totally opposed to the mixing of the races. However, any time a red-blooded American boy like Captain Kirk gets a beautiful dame in his arms that looks like Uhura, he ain't gonna fight it."
During the Comedy Central Roast of Shatner on August 20, 2006, Nichols jokingly referred to the groundbreaking moment and said, "Let's make TV history again … and you can kiss my black ass!"
Alongside Night (Movie)
It's the near future and America is in trouble. Hyperinflation and disorder reign in the towns and cities of the nation.
But this isn't Atlas Shrugged.
It's the nonstop action and suspense in award-winning indie filmmaker J. Neil Schulman's latest production, Alongside Night, based on his award-winning 1979 novel endorsed by Nobel-laureate Milton Friedman, Anthony Burgess, Glenn Beck, and Ron Paul.

Starring Kevin Sorbo (Hercules: The Legendary Journeys), Said Faraj (Green Zone), Contact and Starship Troopers' Jake Busey, Star Trek Voyager's Tim Russ and Garrett Wang, Alien Nation's Gary Graham, Men in Black 3's Valence Thomas, Parks and Recreation's Mara Marini, Lady Magdalene's Ethan Keogh, Adam Meir and Susan Smythe, Kevin Sorbo's real-life wife, actress Sam Sorbo, singer/songwriter Jordan Page, and real-life activist Adam Kokesh, as well as up-and-coming actors Christian Kramme, Reid Cox, Kyle Leatherberry, Rebekah Kennedy, Charlie Morgan Patton, and Eric Colton, this is a film far more real than The Hunger Games.
This is the story of Elliot Vreeland (Kramme), son of Nobel Prize-winning economist Dr. Martin Vreeland (Sorbo). When his family goes missing and while being shadowed by federal agents (Faraj and Leatherberry), Elliot, with the help of his mysterious companion Lorimer (Cox), explore the underground world of the Revolutionary Agorist Cadre to find them. It's a story of romance, intrigue, action, adventure, and exhilarating science fiction thrills.
Synopsis by Alongside Night Unit Publicist and Associate Producer, Kevin Latchford