Samantha Harris Reveals Her Cancer Has Spread
Repost from Newsmax Friday, 20 Jun 2014 05:15 PM
Samantha Harris has revealed that her doctors have determined her breast cancer has spread. The former
Dancing with the Stars
co-host told
People
her doctors informed her they had to remove her lymph nodes while performing a double mastectomy.
"When I came to in recovery, my surgeon was standing over me with a look of sadness and told me that he had to take out all of my lymph nodes," said Harris, who underwent surgery in late May after being diagnosed with breast cancer.While in the operating room, doctors discovered the cancer had spread beyond her breasts and were forced to do further testing.
To Read More of this Story and the Latest Breaking News from Newsmax.com Samantha Harris Reveals Her Cancer Has Spread.
First our hearts and prayers go out to Samantha and her family. This is not easy news to hear, but it sounds like she is making the best of it all.
As a stage 4 cancer patient myself, I can tell you that keeping a good attitude is the best medicine. It is best to have an attitude of gratitude as often as you can and to remember that no matter how bad it might get, there is always someone suffering more than you.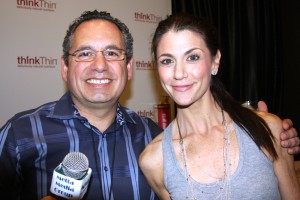 I got the honor or interviewing Samantha in 2012 at a GBK event for the Oscars.
I remember being so excited and nervous. Samantha was known for interviewing A+ Celebrities and some of the most famous people around the world. Would she judge me?
She was so down to earth and lovely. She was so easy and fun to talk with. See my original interview with her at http://onpurposemagazine.com/2012/04/19/samantha-harris-on-feeding-americas-hungry-children/ – JW