Michelle Patterson  President of California Women's Conference Interviews Genocide Survivor Immaculee Ilibagiza.
Michelle Patterson President and CEO of Women Network LLC, and now the president of the well known California Women's Conference continuing it's 28 year tradition as the nation's preeminent conference for women, sits down with Immaculee Ilibagiza speaker and NY Times Bestselling author of the book "Left To Tell", the story of her surviving and finding God and faith after surviving the 1994 Rwandan genocide.
This is an incredible interview of two women, mothers who have made a true connection. Michelle Patterson asks Immaculee about how she dealt with the fear of being hunted down my machete wielding killers.
They talk about fighting fear and living love and the importance of mattering and aiming for goodness as embracing fear is embracing suffering forever. They also talk about their kids and how to teach them how to live in love and not fear.
The California Women's Conference. Somewhere around 200 speakers and 4 to 5 thousand women in attendance at the event.
Michelle Patterson invited On Purpose Magazine to come and interview the various speakers at the conference and I will forever be thankful. At On Purpose Magazine we strive to bring you content with meaning. Stories and interviews that can touch the lives of our readers and hopefully help a few folk out.
It was an incredible weekend where women from around the world came to learn, to share, to discover, their full potential.
Michelle has done a remarkable job of keeping this historic conference alive and making sure that it really packed a punch by inviting some of the greatest speakers and professionals with a huge variety of talents so that women could go to breakout session after breakout section, gaining a variety of useful tools and strategies for going forward.
There was a room set up so that attendees could meet the speakers, get their books signed and find resources and tools to further help them.
It was also a coming together of a mass of some of the most powerful women in the country to network and share each others brilliance.
The conference was full of music, inspiring speakers, events and so much more. It was one of my favorite events ever and I am a guy. Thank you Michelle, you and your conference were full of heart. – JW
Immaculee Ilibagiza
Immaculée Ilibagiza was born in Rwanda and studied Electronic and Mechanical Engineering at the National University of Rwanda.
Her life transformed dramatically in 1994 during the Rwanda genocide when she and seven other women huddled silently together in a cramped bathroom of a local pastor's house for 91 days! During this horrific ordeal, Immaculée lost most of her family, but she survived to share the story and her miraculous transition into forgiveness and a profound relationship with God.
To really know Immaculée, listen to how others describe her:
"In all of my countless hours with her, in a multitude of private and public settings, this transcendentally spiritual woman always—and I mean always—shines a light that captures everyone within its boundaries,"

"The very first moment we met, I knew in an absolute flash of insight that I was in the presence of a uniquely Divine woman. To me, Immaculée was not only left to tell this mind-blowing story, but more than that, she's a living example of what we can all accomplish when we go within and choose to truly live in perfect harmony with our originating Spirit."  – Dr. Wayne W. Dyer

"Immaculée is a stunningly beautiful woman who emanates peace and light,"

"Her story is one that confirms the existence of power of a Divine Source. When I read her book, I came to understand and trust at a whole new level that true communion with God is possible for every one of us." – Dr. Christiane Northrup
Four years after the Rwandan tragedy, Immaculée immigrated to the United States and began working for the United Nations in New York City. She has since established the Left to Tell Charitable Fund to help others heal from the long-term effects of genocide and war.  Read More >
Links to Immaculee
Immaculee Website
Left To Tell Website
Immaculee's Book – Left to Tell
NYTimes Bestseller Left To Tell
Immaculee Ilibagiza grew up in a country she loved, surrounded by a family she cherished. But in 1994 her idyllic world was ripped apart as Rwanda descended into a bloody genocide.
Immaculee's family was brutally murdered during a killing spree that lasted three months and claimed the lives of nearly a million Rwandans.
Incredibly, Immaculee survived the slaughter. For 91 days, she and seven other women huddled silently together in the cramped bathroom of a local pastor while hundreds of machete-wielding killers hunted for them.
It was during those endless hours of unspeakable terror that Immaculee discovered the power of prayer, eventually shedding her fear of death and forging a profound and lasting relationship with God. She emerged from her bathroom hideout having discovered the meaning of truly unconditional love—a love so strong she was able seek out and forgive her family's killers.
The triumphant story of this remarkable young woman's journey through the darkness of genocide will inspire anyone whose life has been touched by fear, suffering, and loss.
THE BOY WHO MET JESUS:
Segatashya of Kibeho
by Immaculée Ilibagiza with Steve Erwin
Hardcover
It's the greatest story never told: that of a boy who met Jesus and dared to ask Him all the questions that have consumed mankind since the dawn of time. His name was Segatashya. He was a shepherd born into a penniless and illiterate pagan family in the most remote region of Rwanda. He never attended school, never saw a bible, and never set foot in a church. Then one summer day in 1982 while the 15-year-old was resting beneath a shade tree, Jesus Christ paid him a visit. Jesus asked the startled young man if he'd be willing to go on a mission to remind mankind how to live a life that leads to heaven.
OUR LADY OF KIBEHO:
Mary speaks to the world from the heart of Africa
by Immaculée Ilibagiza with Steve Erwin
Paperback
Thirteen years before the bloody 1994 genocide that swept across Rwanda and left more than a million people dead, the Virgin Mary and Jesus Christ appeared to eight young people in the remote village of Kibeho. Through these visionaries, Mary and Jesus warned of the looming holocaust, which (they assured) could be averted if Rwandans opened their hearts to God and embraced His love.
LED BY FAITH:
Rising from the Ashes of the Rwandan Genocide
by Immaculée Ilibagiza
Hardcover
In Led By Faith, Immaculée takes us with her as her remarkable journey continues. Through her simple and eloquent voice, we experience her hardships and heartache as she struggles to survive and to find meaning and purpose in the aftermath of the holocaust.
THE DIARY OF IMMACULÉE
by Immaculée Ilibagiza
DVD
The Diary of Immaculée is a film that abounds with drama and compassion . . . and makes us all realize that heroes and heroines will always walk among us.
California Women's Conference
The spiritual predecessor of the California Women's Conference, namely the California Governor & First Lady's Conference on Women, was an annual non-partisan event, and was created in 1985 by then-Governor George Deukmejian, to address the high failure rate among women-owned businesses by giving women entrepreneurs greater access to funding and other helpful resources.
Selecting the city of Long Beach as the event's host, city officials and businesses quickly became enthusiastic supporters.
Then-First Lady Gloria Deukmejian assumed responsibility for the conference, which became known as the California Governor and First Lady's Conference. In the recent past, this conference became a star-studded event.
Past speakers have included: His Holiness the Dalai Lama, Tenzin Gyatso, First Lady Michelle Obama, Oprah Winfrey, former British Prime Minister Tony Blair, Duchess of York Sarah Ferguson, Barbara Walters, Jane Fonda, Queen Noor of Jordan,Tyra Banks, Martha Stewart, Madeline Albright, Condoleeza Rice, and many others.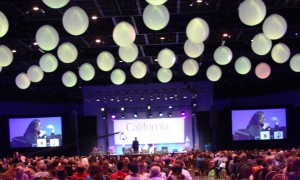 Today, the tradition of enthusiastically serving women-owned businesses continues under the stewardship of Michelle Patterson, Director of the Global Women Foundation who took over the conference in 2012 thus continuing its 28-year tradition as the nation's preeminent conference for women – a perfect example of the objective Governor Deukmejian set out when he first started the Conference.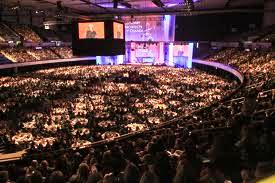 The California Women's Conference offers its attendees inspiration, resources, and connections to take the next step in business, personal development, health and wellness, or philanthropic endeavors. Featuring widely respected thought leaders, talented entertainers, and a marketplace of ideas, exhibits, networking and panel discussions, the conference is designed to benefit women from all walks of life.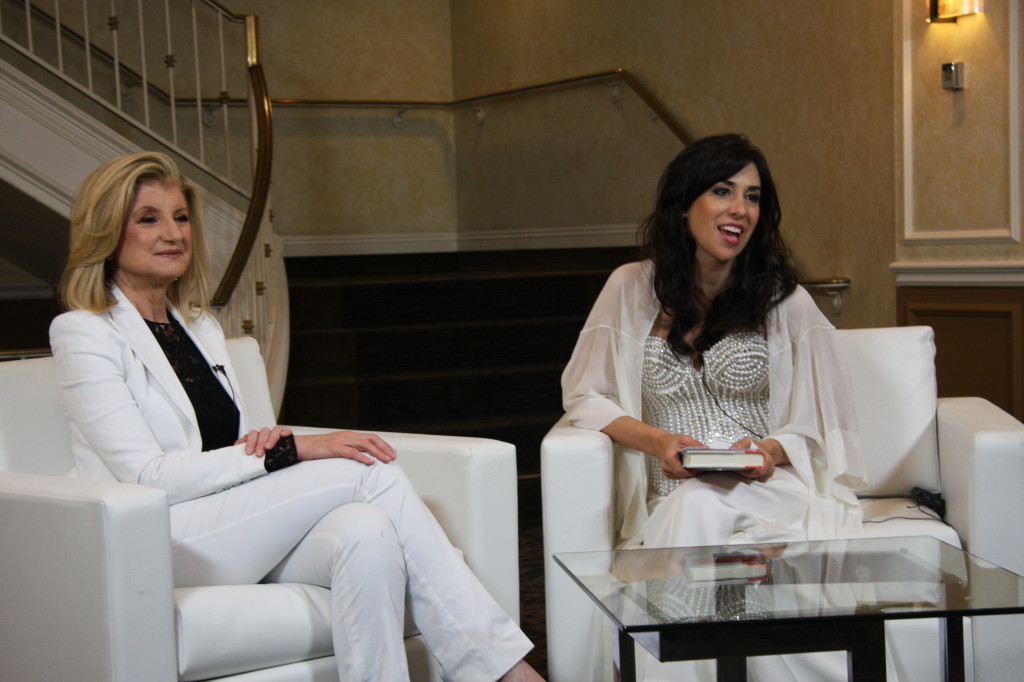 The California Women's Conference , an industry leading network event for women and men, provides transformation, global impact, entertainment and the opportunity to give back to the community. The Conference has a 28-year legacy and is the longest running women's event in the United States. Its primary focus is personal growth and professional development. The Conference is dedicated to providing individual women, women entrepreneurs and corporations with the education, training, and mentoring to eradicate those issues most isolating to women on a global basis. It does this by identifying, prioritizing and presenting topical speakers to expose, motivate and educate attendees on matters most important to women.
These subjects may range from:
●         Basic Human Rights
●         Violence Against Women
●         Poverty
●         Human Trafficking
●         Pay and Position Equality
●         Financial Literacy
●         Educational Literacy
●         Family and Work Balance
●         Personal Development
●         Racial and Gender Diversity
Michelle Patterson
Michelle Patterson is the President of the Global Women Foundation, a 501(c) (3) public charity that serves to provide support, leadership and advocacy for women's initiatives around the globe.
The charity, which started almost ten years ago as a local festival supporting 22 charities, has grown into a global movement for women.
Michelle Patterson is also the Founder, President and CEO of Women Network LLC, a digital media company giving women a voice to share their message. Women Network's "umbrella platform" shines a light on organizations and corporations who empower women and bring them together as a community to experience "We are Better Together." The online digital network provides women resources, tools and advice to achieve their full potential.
Ms. Patterson is driven by the belief that everyone has something significant to contribute and when people (male or female) come together and support one another; "We are truly Better Together." She is committed to helping individuals discover their talent and connect to the right circle of people to live out their purpose.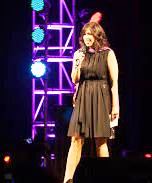 A successful event promoter (Taste of Ladera); a lauded business accelerator (youngest Regional VP and National Sales Trainer for Robert Half, the world's largest specialized recruiting firm); a sought-after media commentator (The Huffington Post, CNBC, Fox Business News, Bloomberg and dozens of California TV stations); an energetic and engaging public speaker; host of a weekly radio show on Women Network Talk Radio.
Michelle Patterson is also the headlining author for a women's anthology featuring notable celebrity contributors to be released by Ben Bella Books in Fall 2013. It will be her third book.
Michelle Patterson is also the president of the California Women's Conference.
Michelle's Facebook
Michelle's Twitter @ItsMeMichelleP
Links
The California Women's Conference Website
Women Network
California Womens Conference Twitter @CAWomensConf