Rosie Perez talks about her new book at the California Women's Conference
Famous for movies like Do the Right Thing, White Men Can't Jump and for her Oscar nominated supporting role in Fearless. Renowned for her music video choreography for stars like Janet Jackson, Bobby Brown, Diana Ross, LL Cool J and many more, she has played on Broadway,  worked as a director, a producer and now she is also an author.
Rosie Perez has written her inspiring, sometimes funny and heartbreaking story about surviving abuse as a child and the politics in the entertainment industry.

So many thank yous to Michelle Patterson of the California Women's Conference. Somewhere around 200 speakers and 4 to 5 thousand women in attendance at the event. Incredible
Michelle invited On Purpose Magazine to come and interview the various speakers at the conference and I will forever be thankful. At On Purpose Magazine we strive to bring you content with meaning. Stories and interviews that can touch the lives of our readers and hopefully help a few folk out.
I was interviewing in one of the main interviewing rooms and was asked to interview Rosie Perez. I jumped at the chance and ran down to the backstage area with a camera and small bank of lights. I was told we only had a few minutes to capture an interview and had no time to set up a full shoot. So I apologize for the bad lighting job, but Rosie was a trooper even when my phone rang in the middle of my interview. Never happened to me before… Ouch.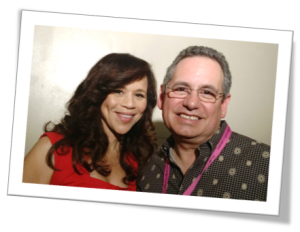 Rosie was wonderful. This interview is about her new book Handbook for an Unpredictable Life – How I survived Sister Renata and my crazy mother, and still came out smiling (with great hair).
This talk was more on the serious side, but I understand that the book is full of heartbreaking, inspirational and also very funny stories of her tragic life growing up and the ups and downs of her professional career.
She talks straight about abuse, physical and emotional and how she overcame and became so successful even though she constantly had to beat the odds and endure those that wanted to beat her down, stop her or make her feel small just because she was competitive and wanted to do more.
She talks about the things women need to hear about standing in their power and never playing small or feeling lesser than. She talks about doing what you want and not allowing others to judge you just because of your sex.
This is a great lesson for women and dare I say all of us that have allowed others to dictate to us who we are and how we should act.
As a sufferer of low self esteem and abuse when I was young, I truly enjoyed this one. Thank you Rosie. – JW
The Book
Handbook for an Unpredictable Life – How I survived Sister Renata and my crazy mother, and still came out smiling (with great hair)
Oscar-nominated actress Rosie Perez's never-before-told story of surviving a harrowing childhood and of how she found success—both in and out of the Hollywood limelight.
 
Rosie Perez first caught our attention with her fierce dance in the title sequence of Do the Right Thing and has since defined herself as a funny and talented actress who broke boundaries for Latinas in the film industry. What most people would be surprised to learn is that the woman with the big, effervescent personality has a secret straight out of a Dickens novel. At the age of three, Rosie's life was turned upside down when her mentally ill mother tore her away from the only family she knew and placed her in a Catholic children's home in New York's Westchester County. Thus began her crazily discombobulated childhood of being shuttled between "the Home," where she and other kids suffered all manners of cruelty from nuns, and various relatives' apartments in Brooklyn.
Many in her circumstances would have been defined by these harrowing experiences, but with the intense determination that became her trademark, Rosie overcame the odds and made an incredible life for herself. She brings her journey vividly to life on each page of this memoir—from the vibrant streets of Brooklyn to her turbulent years in the Catholic home, and finally to film and TV sets and the LA and New York City hip-hop scenes of the 1980s and '90s.
More than a page-turning read, Handbook for an Unpredictable Life is a story of survival. By turns heartbreaking and funny, it is ultimately the inspirational story of a woman who has found a hard-won place of strength and peace.
Rosie Perez
From Wikipedia
Rosie Perez was born in Brooklyn, New York, in the neighborhood of Bushwick, to Puerto Rican parents[1] Lydia Perez and Ismael Serrano, a merchant marine seaman.
Perez became a ward of the state when her mother took her from an aunt, who had been raising her. She was transferred to a group foster home at age 3 and lived in foster care until age eight, and was still legally considered a ward of the State of New York until age 12 years.
These life problems left Perez with a speech impediment.[1] She eventually moved in with an aunt and attended Grover Cleveland High School, which is located in Ridgewood, in the New York City borough of Queens.
Acting
Perez was first noticed in a dance club by Spike Lee in 1988, who hired her for her first major acting role in Do the Right Thing.[6] Perez started her career in the late 1980s as a dancer on Soul Train and later choreographed music videos by Janet Jackson, Bobby Brown, Diana Ross, LL Cool J and The Boys. She was the choreographer for the dancing group the Fly Girls who were featured on the Fox television comedy program In Living Color.
She made her Broadway debut in Terrence McNally's Frankie and Johnny in the Clair de Lune. Perez had her third major role in the hit comedy White Men Can't Jump co-starring Wesley Snipes and Woody Harrelson.
Perez was nominated for the Oscar for Best Supporting Actress for her role in Peter Weir's 1993 film Fearless. In 1997, she starred in Perdita Durango, a controversial film in which many scenes of excessive violence, sex and nudity were edited out of the version released in the United States but remained intact in the version released throughout Latin America.
She provides the voices of Click, the camera, on Nick Jr.'s Go, Diego, Go! and Chel, a beautiful native woman in the DreamWorks Animation film The Road to El Dorado. She played corrupt police officer Carol Brazier in the Judd Apatow-produced film Pineapple Express, co-starring Seth Rogen and James Franco. Perez appeared on an episode of Law & Order: Special Victims Unit in October 2009 about pedophiles' rights. Executive producer Neal Baer said the writers had Perez in mind when they wrote the role of a young sexual abuse victim's mother.[7] She suffered a serious injury during the filming of the episode.[8] Most recently, Perez is the subject of a released album by Felt entitled Felt 3: A Tribute To Rosie Perez.
Author
In February, 2014, Rosie Perez published an autobiography titled "Handbook for an Unpredictable Life: How I Survived Sister Renata and My Crazy Mother, and Still Came Out Smiling…" She is also the reader of the audio CD of this book.
Links
IMDB
~~~~~~~~~~~~~~~~~~~~~~~~~~~~~~~~
California Women's Conference:
The California Women's Conference offers its attendees inspiration, resources, and connections to take the next step in business, personal development, health and wellness, or philanthropic endeavors. Featuring widely respected thought leaders, talented entertainers, and a marketplace of ideas, exhibits, networking and panel discussions, the conference is designed to benefit women from all walks of life.
The California Women's Conference , an industry leading network event for women and men, provides transformation, global impact, entertainment and the opportunity to give back to the community. The Conference has a 28-year legacy and is the longest running women's event in the United States. Its primary focus is personal growth and professional development. The Conference is dedicated to providing individual women, women entrepreneurs and corporations with the education, training, and mentoring to eradicate those issues most isolating to women on a global basis. It does this by identifying, prioritizing and presenting topical speakers to expose, motivate and educate attendees on matters most important to women.
These subjects may range from:
●         Basic Human Rights
●         Violence Against Women
●         Poverty
●         Human Trafficking
●         Pay and Position Equality
●         Financial Literacy
●         Educational Literacy
●         Family and Work Balance
●         Personal Development
●         Racial and Gender Diversity