If you are old enough to remember the dominance of General Motors in the 1950s, 1960s, and even 1970s, you remember the saying, "As General Motors goes, so goes the Nation."
That was a pretty gutsy observation of how important GM was.   A large, manufacturer with industry dominance and a huge dominance within the United States' economy.
Today, you wonder what strategic direction they have set?  They certainly are not following their stated objectives.
Instead, GM seems to be wallowing in the Vortex of Declining Mediocrity.  Sales are slow.  Inventories are getting higher and recalls of cars keep erupting while more lofty "corporate-speak" goes out on press releases and memos.
Just when you think they have it fixed on ignition problems or at least recognized, another recall pops up on power steering issues.
GM talks about "delivering vehicles with compelling designs, flawless quality and reliability" but that's the problem – it's just talk.
GM WEBSITE SAYS IT ALL
This is right off the GM website about their commitment to safety and quality:
"Leading the way is our seasoned leadership team who set high standards for our company so that we can give you the best cars and trucks. This means that we are committed to delivering vehicles with compelling designs, flawless quality and reliability, and leading safety, fuel economy and infotainment features. All are intended to create that special bond that can only happen between a driver and their vehicle………"
Keep reading on this page and you get to this:
"At the new GM, we make a strong commitment to our customers, employees, partners and other important stakeholders. We state proudly our five principles that guide us in everything we do:

– Safety and Quality First: Safety will always be a priority at GM. We continue to emphasize our safety-first culture in our facilities, and as we grow our business in new markets. Our safety philosophy is at the heart of the development of each vehicle. In addition to safety, delivering the highest quality vehicles is a major cornerstone of our promise to our customers. That is why our vehicles go through extreme testing procedures in the lab, on the road and in our production facilities prior to being offered to customers…"
(you can keep reading here — http://www.gm.com/company/aboutGM/our_company.html  ) (UPDATE 7/14: Hmmm,, GM took down this page.  Evidently, someone high up in GM read this article)

Someone better sit down with their "seasoned leadership team" of executives and have them read Page One of their own website. All of this is just hollow, "feel good", rhetoric.

ONLY PERFORMANCE IS REALITY
To quote the late Hal Geneen (Former Chairman of ITT):
"Leadership is practiced not so much in words as in attitude and in actions."
Another Geneen quote I really like is:
"In business, words are words,
Explanations are explanations,
Promises are promises, but
Only Performance is Reality"
Well, based on the "real" performance of GM, I would say the "seasoned leadership team" must have delegated the writing of their website to some good spin doctor who really is a good wordsmith, but never put in practice what he (or she) wrote up as the five principles GM supposedly lives by.
CARLINI-ISM: "Only performance is reality.  Everything else is just glossy rhetoric and slick slogans."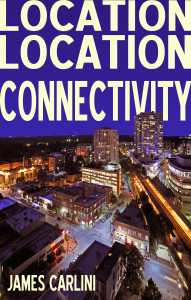 Carlini's visionary upcoming book, Location Location Connectivity will be available later this year.
He will be speaking at several upcoming conferences across the country later this year. Details are forthcoming.
COPYRIGHT 2014 – JAMES CARLINI
All rights reserved.